Tata Riva is a part of a Green Township. It situates in Bangalore. It is inside one of the fastest developing corridors of Bangalore. It is a senior living community. The habitants of this place can live an active lifestyle here. The well-being of this place is independent. Like-minded people come to this place. They enjoy excellent company themselves.
This community offers its residents all kinds of facilities. There are many advantages of this place, which lead to comfort. The safety measures are high-end. The advantages are charming here. Tata Riva is fully equipped with staff to look out for the residents. These staffs are also very qualified. International architects have designed this place. They have included various minute details in this place.
Tata Riva Location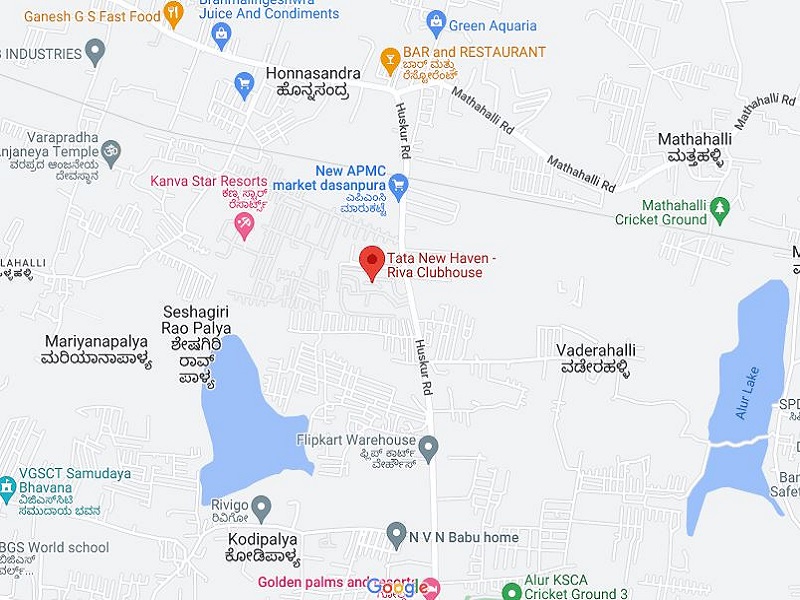 The location of Tata Riva is very strategic. It has a direct connection to all the nearby significant points. It is also united with key locations in and around Bangalore. It is one of the most esteemed addresses in the city. There are many famous schools around this area. There are various shopping areas in the zone. Some fields here are set apart for recreation only.
Some hospitals also locate themselves in nearby places. You can also find public fields here. Public gardens are also open for kids. It is a part of an integral township. It is linked to National Highway 4. Also, it is connected to National Highway 48.
A public school is only 1.84 Km from this place. That school is Ces Public School. A Government Primary school is only within 2.1 Km from this place. An international school is also 2.11 Km proximity of this place. That school is Mei International School.
About
Tata Riva offers a round-the-clock healthcare center. It has a spacious library. There is a friendly gymnasium. Also, an air-conditioned yoga room is perfect to offer your mind tranquillity. It can also give peace to your mind.
The design includes anti-skid tiles. There are convenient sliding windows as well. The bathrooms are furnished with emergency support systems. The bedrooms also have this facility. Tata Riva is an unparallel residential property in Tumkur Road, Bangalore. It is a prime location.
Investors can expect a high return from this place. The surroundings are pretty healthy. The dweller can also have a lavish lifestyle here. The designers have designed this place, particularly for senior people. It is also a new-age concept home.
Price
There are two kinds of apartments present in Tata Riva. Those are 1BHK apartments and 2BHK apartments. The 1BHK apartments are 796 Sq. Ft. The 2BHk apartments are 1187 Sq. Ft.
The carpet area of 1BHK apartments ranges from 542 to 572 Sq. Ft. The same is 808 Sq—Ft. For 2BHK apartments.
The price of 1BHK apartments ranges from 45 Lakhs to 50 Lakhs. The price for 2BHK apartments goes to 70 Lakhs.
Amenities
Tata Riva offers superb amenities. The sports amenities are fantastic. Some of them are; Gymnasium, Table Tennis, Yoga areas, Badminton courts & swimming Pools. Other are; Tennis Courts, Basketball Courts, jogging tracks, Cycling tracks, & Billiards.
There are many leisure amenities. Some of them are; Reading rooms, Libraries, Party Halls, Indoor games, & Sauna. Other are; Clubhouses & Conference Rooms.
There are also many environmental amenities. Also, there are safety measures.
FAQS on Tata Riva
There are a total of 187 units.
The possession status of Phase 2 is Ready to Move.
You can download the floor plan of Tata Riva from the Project's page. It is effortless. It depends on the Room configuration.
Tata Housing Developers
Tata Housing and Development Company is in business. That is the residential property development business. Tata Housing possesses around 33 projects. These projects have a real development possibility. That is over 51 million sq. Ft. Furthermore, it spreads across major cities. Those cities are; India, Sri Lanka, Maldives, etc.
Tata Housing spans and encompasses all consumer segments. Such is inclusive of value housing to luxury housing.
Tata Carnatica is a prelaunch township at Devanahalli, North Bangalore.