Tata Primanti is Tata's most luxurious flat in Gurugram. It has a European-style inspiration in its design. It offers a posh lifestyle within a gated community. IGBC gives Tata Housing Primanti a Platinum rating. With an eco-friendly lifestyle and luxury, this township offers urban-premium villas and flats. It has set a new standard for high living in Gurugram. This Tata's Premium township offers a perfect treat to your senses.
The township is spread across 36 acres. It features orchards, meadows, and gardens. It is close to Intellion Edge, a hotspot that enables high-end retail spaces. It includes all the luxury modern living facilities along with nature's blend. The township offers you all the basic facilities and avails the best lifestyle at an affordable price. It avails an urban lifestyle with the best social structure.
Tata Primanti Location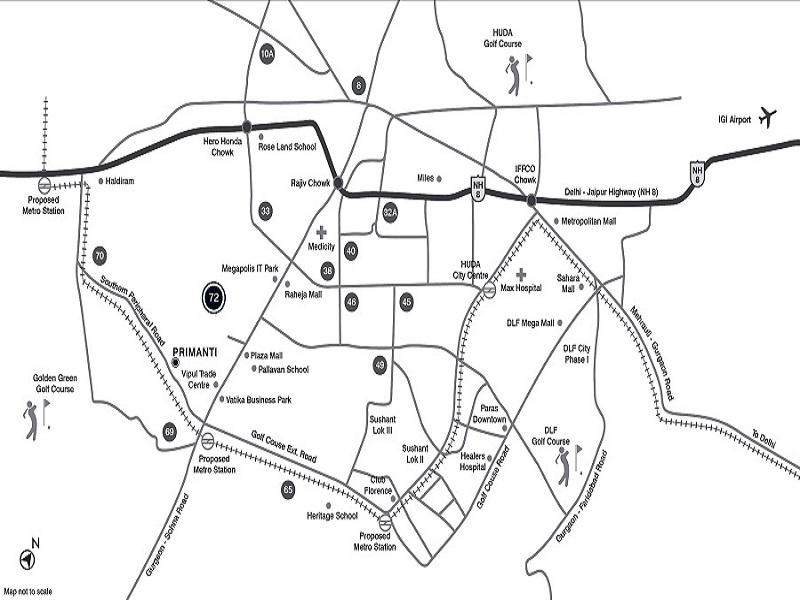 The Tata Housing Primanti is in Gurgaon. It has a very favorable social and physical infrastructure. It is one of the developing and vibrant societies. The demand for spacious homes, and high-quality office space, are high. This locality has good connectivity to hot hubs such as Omaxe City Centre and Spaze Itech Park.
The remote working trend drives the demand for spacious homes and flats in Gurugram. Now is the right time to choose your dream home in this region. This region has the best access to the best hospitals, grand hotels, and fun spots for kids. It is close to the metro station and has the best connectivity with other parts of the city.
More about Tata Primanti
Tata Housing Primanti Township is a ready-to-move housing unit. It has 41 towers and offers flats, studio dwells, and independent floors. It is available in various price ranges. The flats are available with the perfect style and comfort. Their design is splendid and suits everyone's needs. Primanti avails 3, 4, and 5 BHK flats. It offers 1RK studio flats, 4 bhk flats with independent floors, and villas within this township. It is one of the spacious housing units of Tata.
Tata Primanti Price
The Tata Primanti is the right choice if you are looking for ready to move home. It avails 3 BHK flats at a starting price of Rs. 2.25 Cr. Its 4 BHK flats are available from Rs. 2.49 Cr onwards. The 5BHK flats are available from Rs. 5.53 Cr. These investments are best for the long-term and earn rental income. You can get 1RK Studio flats at a starting price of Rs. 13.5 L.
Tata Primanti Clubhouse Facilities
Tata Primanti is a premium township that offers all the modern facilities like a plunge pool and private garden. It consists of a Squash, Tennis, Basket Ball and Badminton Court. It also includes a gym, spa, cafe, and media room. It features home automation, High Security, Basement Car Parking, and more. Tata Primanti clubhouse design offers to maximize views and daylight. It has a clubhouse that is spread over 2647 sqm.
FAQS on Tata Primanti
The Tata Primanti township is in Sector-72, Gurugram, Haryana.
The Tata Primanti township is spread across 36 Acres.
The Tata Primanti is available in Ready-to-Occupy status and for resale.
Tata Primanti avails 3, 4, and 5 BHK flats. It offers 1RK studio flats, 4bhk flats with independent floors, and villas within this township.
Tata Housing Developers
Tata Realty is a real estate developer in India. It is part of the Tata group. They are notable for their innovation and clean business practices. Tata's main focus was to provide people with quality living spaces. It offers homes with innovative designs and affordable prices. They offer affordable homes with all basic facilities. It creates villas with great design.
They enable world-class construction standards. Tata is a fast-growing real estate developer today. They have been building for over 35 years and have more than 21,029 happy registered customers. They focus on delivering comfort and luxury with transparency.
Tata Carnatica is a prelaunch township at Devanahalli, North Bangalore.