Tata Ariana is one of the luxury townships of Tata in Kalinga Vihar, Bhubaneswar. It has a lush surrounding. The Township stands majestic with 25 acres of forest reserves. It offers urban-style living with nature's blend. Its design is an inspiration from Epicureans. It is a standalone unit with the best homes and thoughtful facilities.
Tata Ariana is a joint venture with Woods Baggot. It is famous for its leaf-shaped clubhouse. It is one of the most favorable Tata Housing Units. It offers a different lifestyle. It has more than 45 world-class facilities. Its location is in Shankarpur, Bhubaneswar. The total project area is 28.66 Acres. Tata Ariana offers flats with 1,2,3 BHK. It is available in Ready-to-Occupy status.
Tata Ariana Location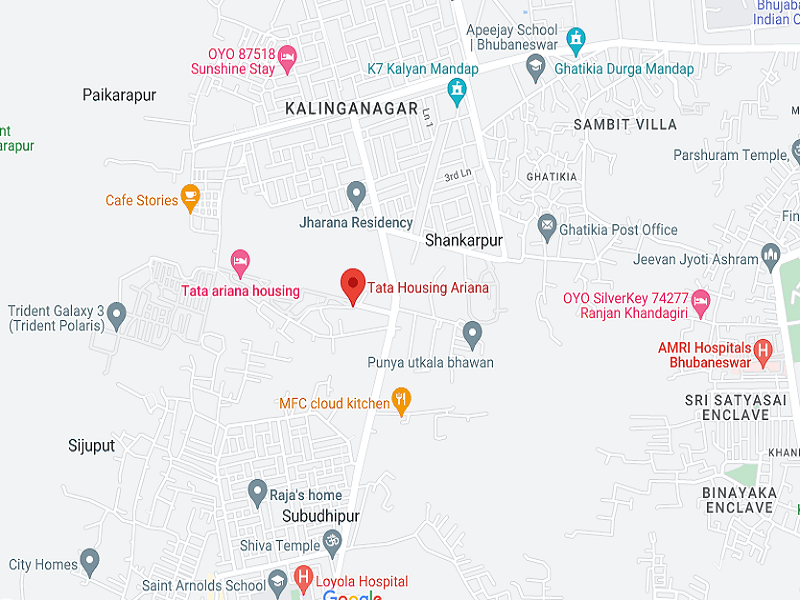 Tata Ariana reflects the urban lifestyle of Bhubaneswar. It is a city with a fusion of ancient and modern ideas. It is a hub for many big companies. It is a growing city with high demand for housing units. It has various faces, like a temple town, and has the best housing units. It has parks, gardens, the best educational institutions, and an open-air zoo. It has an excellent social structure.
It operates domestic and international airlines. Shankarpur is notable for its jungle-like surroundings. It has great access to famous schools, good hospitals, shopping zones, and tech parks. It is a center for IT parks and the best educational institutions. Bhubaneshwar is one of India's most significant economic contributors via the tourism industry.
More about Tata Ariana
Tata Ariana satisfies every need and desire of every client. It offers you a wonderful experience. It comes with the best facilities and comfort. It has flourishing surroundings. The Township's total built-up area is 12 acres of land, which includes 12 towers. Each tower consists of 13 to 19 floors on average.
The flats have the best design and construction quality. It is spacious and includes Vastu compliant. Tata Ariana has a grand entrance lobby. It has 4 elevators in each tower. It has the best power backup system.
Tata Ariana Prices
Tata Ariana comprises 1, 2, and 3 BHK flats. These flats come within different carpet areas like 657 Sq.Ft. - 1637 Sq.Ft. It has 1 BHK flat with a carpet area ranging from 418-432 Sq. Ft. The 2 BHK size ranges from 695-822 Sq. Ft. They offer 3 BHK flats with carpet areas ranging from 1036-1054 Sq. Ft. The Tata Ariana price range starts from 32.55 Lac to 90.53 Lac depending on its size.
Tata Ariana Facilities
Tata Ariana offers thoughtful, world-class facilities. It provides the best comfort and high security. It comes with 24 hrs power backup and a brand door lock. Each flat comes with a video door phone. It offers the best protection. It avails facilities like a Club House, Indoor Games, Play Area, a Garden, Pool, and Gym. The flats come with the best furnishing. It offers a safe and comfortable lifestyle.
FAQS on Tata Ariana
Tata Ariana's location is at Shankarpur, Bhubaneswar.
Tata Ariana offers 1, 2, and 3 BHK flats of various carpet sizes from 418 to 1054 Sq. Ft.
Tata Ariana offers the best facilities like a Club House, Gym, Indoor Games, a Garden, Play Area, Pool, and more.
Tata Ariana avails of flats with ready-to-occupy status.
Tata Housing Developers
Tata Ariana is a notable work of the TATA Housing Unit in Bhubaneswar. It is one of the best housing developers in India. They work on various housing and retail units. It is very famous for its stylish interiors and flawless quality. More than 30 projects are over in multiple cities. They create homes with innovation and make them affordable.
Tata Carnatica is a prelaunch township at Devanahalli, North Bangalore.